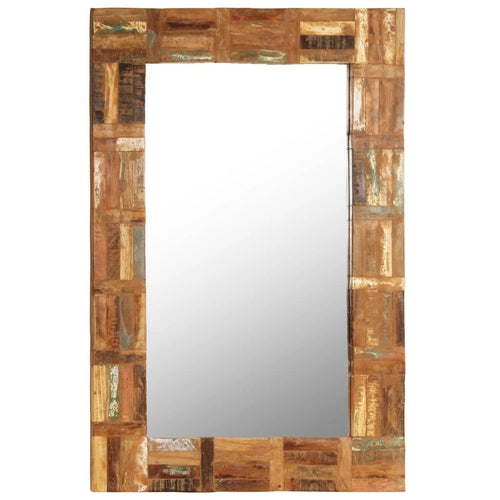 Wall Mirror Solid Reclaimed Wood 23.6"x23.6"
unique, crafted with eco-friendly wood
Original price
$127.22
-
Original price
$224.06
Our antique-look wooden wall mirror will make a practical as well as decorative addition for your bathroom, bedroom or dressing room.
The mirror is made of solid reclaimed wood that has been sourced from joists, floors and support beams from old buildings being demolished, and can consist of different types of wood like sheesham (rosewood), pine, teak, beech, oak, cedar, mango wood, acacia, etc. This means the reclaimed wood retains the characteristics of these different types of wood. Reclaimed wood is already aged, weathered and dried, so it doesn't shrink or bend. The beautiful wood grains make every piece of furniture unique and slightly different from the next. Signs of wear and visible grain structure are indicative of the wood's rich history and give the mirror a warm and authentic look. Every step of the process is carried out with the greatest care, be it polishing, painting or lacquering.
It is ready to be wall-mounted thanks to the already installed hook on the backboard.
Important note: colors vary from piece to piece, making each of our mirrors unique; the delivery is random.
This listing may have variant(s). Please review and select the variant before making a purchase.