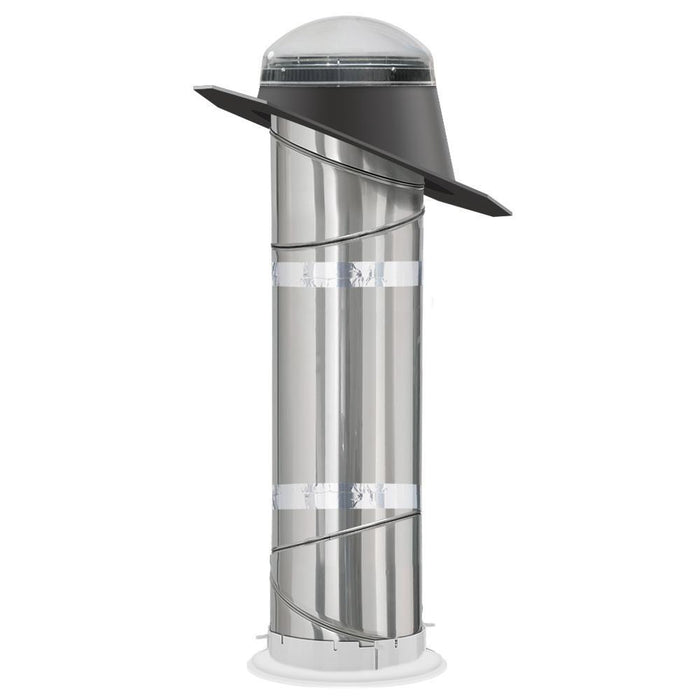 Velux 14" Sun Tunnel Kit
delivers bright, natural sunlight
Original price
$385.00
-
Original price
$593.00
VELUX SUN TUNNEL skylights emit passive light from the Sun without the normal heat emitted by electrical light sources. This Sun Tunnel kit includes an exterior dome, flashing, 48" of rigid tubing (subtract ~6" for flashing), two adjustable elbows, and a ceiling ring and frosted diffuser. See related items below for optional accessories such as tunnel extensions, a universal electric light kit, or a turret extension.
These models utilize a rigid tunnel delivering bright natural light and making it perfect for installations that require longer tunnel lengths. This skylight kit will span 43" with a straight run. Tunnel extensions are available. The maximum recommended installation length is 20 feet.
The TGR model includes a low profile or 'no pitch' flashings for an integrated look with the roofline. The TGR is well suited for southern exposures and for steep rooflines (greater than 45 degrees). See TGR installation instructions here.
The TMR model includes pitched flashing which is great for capturing daylight from all directions along a pitched roof facing. The TMR pitched flashings are available for asphalt, shake, or tile roof. See TMR installation instructions here.
The sleek TLR model is perfect for those with homeowners associations that do not allow domed skylights. The flat, tempered glass skylight sits just one inch above the flashing. Perfectly designed for low profile roofing with an ideal pitch of 14-60 degrees. See TLR installation instructions here.
The TCR model has a curb mount design perfect for flat or low-slope roofs. See TCR installation instructions here.
Country of Manufacture:
US