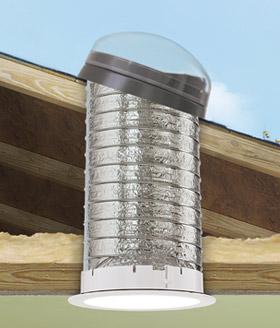 Velux 14" Flexible Sun Tunnel Kit
with a flexible tunnel for quick and easy installations around attic obstructions
Original price
$351.00
-
Original price
$483.00
Velux Sun Tunnel skylights admit passive light from the Sun without the normal heat emitted by electrical light sources. This Sun Tunnel kit includes an exterior dome, flashing, 8 feet of flexible tubing, and a ceiling ring and frosted diffuser. See related items below for optional accessories such as flexible tunnel extensions, a universal electric light kit, a blackout shade, a turret extension, or a fresnel diffuser replacement.
This skylight kit will span up to 8 feet. Tunnel extensions are available. The maximum recommended installation length is 8 feet. The rigid tunnel will span a longer length with good light capture.
The TGF model includes a low profile or 'no pitch' flashings for an integrated look with the roofline. The TGF is well suited for southern exposures and for steep rooflines (greater than 45 degrees).
The TMF model includes pitched flashing which is great for capturing daylight from all directions along a pitched roof facing. The TMF pitched flashings are available for asphalt, shake, or tile roof. The TMF Sun Tunnel skylight features an innovative one-piece pitched metal flashing that is designed to keep out the elements while providing the optimal angle for gathering light from all directions.
The Model TMF a(more...)
Country of Manufacture:
US

Colors/Options
Velux Size Guide
| | |
| --- | --- |
| TGF Low Profile (no pitch), Acrylic or Impact Dome | TMF Pitched, Acrylic or Impact Dome, Tile Kit Available |
Installation
Velux TGF and TMF Flexible Sun Tunnel Installation Guide
Velux Dual Clear Diffuser Instructions
Velux Frosted Dome Mounting Installations
Benefits and Certifications
The Velux Sun Tunnel comes with a ten-year warranty against manufacturer's defect, rust corrosion, and deterioration.
Velux Warranty Information