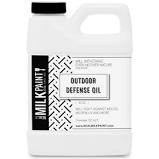 The Real Milk Paint Co Outdoor Defense Oil - Gallon
Perfect treatment and finish for outdoor wood
Original price
$79.99
-
Original price
$79.99
A perfect outdoor wood treatment oil that provides a great Non-Toxic way to finish your outdoor projects! This exterior oil is made with 100% Pure Tung Oil, Pine Oil, and Zinc. Use it as a raised garden bed, deck, fencing, or pergola wood finish. Also works well on concrete, stone, or any absorbent material for exterior finishing. Keep the natural look of your wood while protecting it from the elements with this oil treatment.
Generally, 3 to 5 coats give moderate protection. More coats only if the wood will accept it. The Outdoor Defense Oil does not build up on the surface but absorbs deep into the wood pores. This food contact safe oil leaves a natural texture to the wood surface. Will provide a matte finish. Do not apply directly under the hot sun, as the oil will polymerize very fast and leave a frosty, rubbery surface. It does not need to be thinned with a solvent . Ready to be used right from the bottle! Hang rags outside separately to dry before disposing of.
APPLICATIONS
There are so many uses for Outdoor Defense Oil. Here are a few, but the exterior wood applications are really endless!
Raised Garden Beds
Picnic Tables
Wooden Adirondack chairs
Log Pine Wood Furniture
Decks
Wood Fencing
Front Porches
Concrete Patio
Park Benches
Wooden Storage Sheds
Over Real Milk Paint®
COVERAGE
Gallon covers 400 sq. feet
DETAILS
Shake well before use
Environmentally friendly wood oil that provides a warm glow to your outdoor furniture, concrete, stone, brick, bare wood, exteriors, deck protection, siding….and well you name it.
Can be mixed with any other of our Tung Oil Products (i.e. Pure Tung Oil, Dark Tung Oil, Dark Half, Half & Half)
CAUTION!!
Use ventilation until the solvent is evaporated from the finish, about 2-4 hours
NOTE: Not for use over oil-based sealer type stains or other finishes. Store in a moderate temperature.
Hang rags separately outside to dry before disposing of.