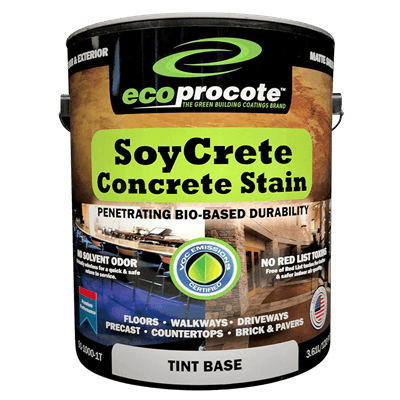 SoyCrete Decorative Concrete Stain, Tint Base, 1 Gal
All of Eco Safety products are suitable for both interior or exterior applications by Eco Safety Products
Original price
$37.99
-
Original price
$37.99
SoyCrete Decorative Concrete Stain Tint Base
This is un-tinted base. We understand that many artistic end-users and decorative concrete contractors prefer to have on site concrete stain color flexibility when embarking on a concrete staining project. Concrete staining is art on concrete and can be as simple as a one coat, one color marbled look, or a project where multiple colors and variations are involved. You need the right product that gives you the ability to express your artistic skills without breaking the budget or requiring overstock that goes to waste. We've made it possible to lessen pigment load, increase pigment load, or even make your own custom concrete stain colors on site to save you time and money.

Buy This Concrete Stain Base If:

You prefer to add the zero VOC Pre-Measured Color Tint Packs to create your own standard, lighter, darker, or custom color.

You are a decorative concrete stain contractor.

You are a retail dealer.

You want flexibility of using pigment packs and/or have an in-house colorant tinting machine.

You want to maximize stock and reduce shipping costs to have it on hand when customers want it and to tint only what you need when you need it.

Color Tint Packs:
The fill volume of the concrete stain base will allow you to add up to (3) color packs per each one gallon stain tint base. You may add less than one pack to lighten the color or you may add as many as (3) pigment packs which is our maximum recommendation to avoid exceeding the pigment volume concentration limit.

Note: If adding (3) pigment packs you should pour the stain base into a larger mixing container prior to adding the pigments as it may exceed the volume capacity of the one gallon container. If you add more than the standard (1) color tint pack, it will change the transparency from semi-transparent to semi-solid or even opaque if the substrate is very porous. The color packs may also be intermixed to create your own custom colors. If producing your own colors we recommend a range of 2 to 4 ounce per one gallon of tint base and a maximum never to exceed 8 ounces per one gallon.


It is recommended that you always document the pigment volume, color(s), etc., either by volume or by weight so that you may reproduce the exact color(s) in the future for touch-up, repairs, or an additional project area.