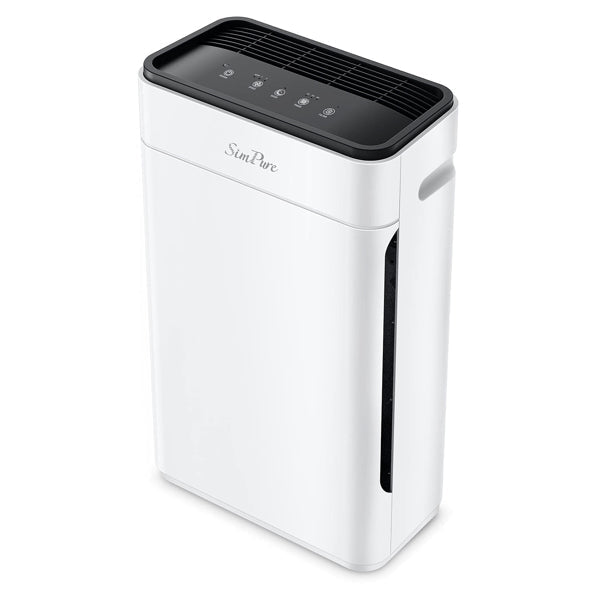 SimPure HP8 Air Purifier True HEPA Filter Air Cleaner
for cleaner and healthier air
Original price
$140.00
-
Original price
$140.00
Description:
Brand: SimPure
Size:13.1*6.9*21.4 inch
Weight: 4.5KG
CADR Rating: 106 CFM( 183 m3/h)
Suitable Room Area: 237 (22 square meter)
Noise: 23dB
Fliter out: pollen/dust/dust mites/mold/pet dander/smoke/bacteria/VOCs
Scenes : bedroom, kitchen, office,home
Features:
True Filter, 100% Ozone Free - air cleaner captures and reduces up to 99.97% of contaminants as small as 0.3 microns in the air, including allergens, fine dust, pet dander, pet hair, pollen, mold spores, cigarette smoke, odors, VOC's and more. Ideal for smokers, allergies, and pet owners.
• High-Efficiency and Wide Coverage Filtration - With the CADR rating of 106 CFM (180 m³/h), it covers a room size up to 200sq ft. in 15 minutes, 400sq ft. in 30 minutes, 800sq ft. in one hour. Perfect for small to large rooms covering living rooms, bedrooms, kitchens, baby nurseries, basement, and offices.
• Tested and Trustworthy - it is a CARB-certified air cleaner since it complies with California's strictest safety standards - the California Air Resource Board for indoor cleaning devices. And it is also ELT listed.
• User-friendly Design - Three optional fan speeds (Low / Medium / High) meet various purification needs and sizes of the space. Noise levels as low as 23dB in sleep mode create an ultra-quiet restful environment for studying, working, or sleeping. Bonus features include a Timer for 1h/2h/4h auto-off, a Filter Replacement Indicator, and auto shut-off protection when the panel opened.
• Filter Replacement Reminder - The filter replacement indicator lights up when a replacement is needed. It is recommended to replace the air filter every 6 months or after 1,500 hours of use (whichever comes first). Note: Remove the protective plastic from the filter pre-installed in the air purifier before running it.
Specification:
Size:13.1*6.9*21.4 inch
Weight: 4.5KG
Package
Includes:
1* Air Purifier
1* Fliter
1* User Manual
1*Packing Box