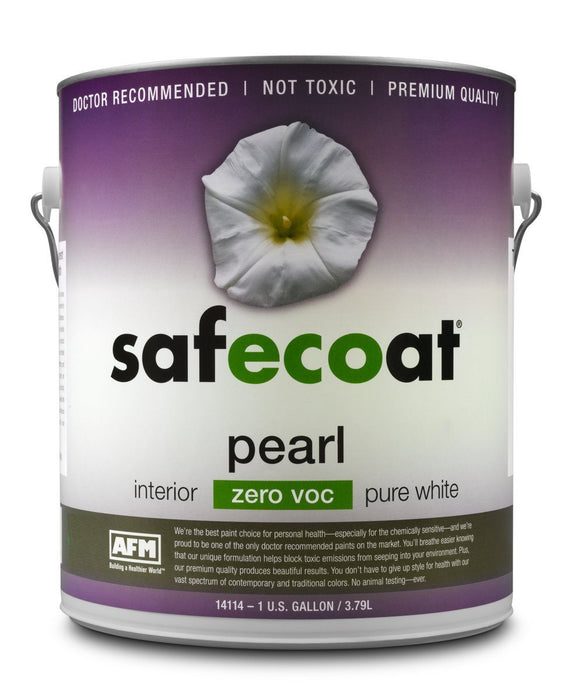 SAFECOAT® Zero VOC Pearl Pure White (Pastel Base)
Safecoat Pearl Zero VOC is a premium quality, fast curing paint designed for interior surfaces where a matte sheen and superior film formation are needed.
Original price
$10.99
-
Original price
$374.00
Contact us to help color-match your paint today! Simply tell us your desired color from a major manufacturer. Include the manufacturer, brand, name, and number.
AFM Safecoat ZVOC Paint is a premium quality, fast curing paint designed for areas in which the health of the occupants is a concern: schools, hospitals, homes, offices – anywhere people want to reduce their exposure to toxic chemicals. AFM Safecoat ZVOC Paint has almost no odor during application and are odor free once cured. They contain no formaldehyde, ammonia, crystalline silica, ethylene glycol or preservatives found in competing "healthy" brands.
USE ON:
AFM Safecoat ZVOC Paint can be used on new or existing, properly primed interior walls and ceilings, properly cured and primed plaster (below 10 pH), masonry, woodwork and primed metal.
SURFACE PREP:
Surfaces should be sanded and cleaned of dirt, grease, mildew and oil. Cleaning with an odorless, dye-free, all-purpose cleaner such as SafeChoice Super Clean is recommended. To achieve an even, consistent finish, the underlying surface must be evenly sealed. Previously painted surfaces in poor condition need to be scraped and sanded smooth before priming with SafeCoat Transitional Primer. Always spot test for adhesion over prior coatings.
Before application, coat new wallboard or sheetrock with SafeCoat New Wallboard Primecoat. Sand porous new wood and prime with SafeCoat Transitional Primer. Water and other stains must be blocked so they do not bleed through. In all cases, the best finish will be achieved with a primer and two finish coats.
Environmental conditions are crucial: if the air temperature is too hot or too cold, the product will not cure properly; if the air or the wood is too dry, or there is too much moisture in or on the surface, other problems may result. In addition, many surfaces contain water-soluble tannins or acids which are activated by the application of water based products and will "bleed through" to the surface. All of these conditions can be avoided with proper preparation.
Finally, Safecoat products are formulated to work together. Optimum results are best obtained by using a Safecoat primer, for example, before applying Safecoat paint. Of course, always read the application instructions before beginning the job.
APPLICATION:
Always have adequate ventilation. Surface should be completely dry before application. Before using, stir well, then apply with a high-quality nylon or synthetic bristle brush or roller of appropriate nap (1/4"-3/8" nap recommended). Do not apply in thick films or load paint onto the surface. Thin coats are better than one thick coat.
2 coats is usually sufficient for most jobs, but darker colors or substrate may require a 3rd coat.
COVERAGE:
One gallon of AFM Safecoat ZVOC Paint covers approximately 350 square feet, one coat.
RECOATING:
Under normal-ideal conditions, Safecoat Zero VOC paints can be recoated after 4 hours.
For best results, wait at least 8 hours before recoating. Normal conditions include: a dry surface, access to fresh air flow, moderate humidity, and temperatures above 55°F. Thick application, high humidity, or conditions other than normal will cause paint to dry and cure more slowly. Drying and curing time can be accelerated by moving fresh air over the painted surface, but recoating before the time period noted above is not recommended.