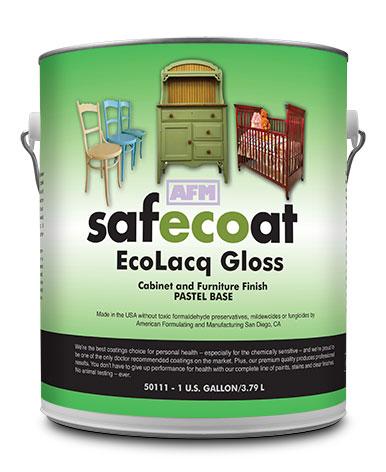 SAFECOAT® ECOLACQ GLOSS
Safecoat EcoLacq is a pigmented, hard and durable high gloss, water-based replacement for high solvent content lacquer.
Original price
$10.99
-
Original price
$94.60
Contact us to help color-match your paint today! Simply tell us your desired color from a major manufacturer. Include the manufacturer, brand, name, and number.
AFM EcoLacq is a pigmented, hard and durable high gloss, water-based replacement for high solvent content lacquer. Its very low odor and VOC content has allowed it to be used even in the homes of the chemically sensitive. Safecoat EcoLacq seals in outgassing from the substrate, and has superior resistance to stains, marring, and fingerprint marks.
USE ON:
Unfinished (or properly prepared and sanded previously finished) wooden surfaces such as wood cabinetry and doors, paneling, furniture, and wood railings.
APPLICATION:
Always have adequate ventilation. Intermix (boxing) all containers of the same sheen and color to ensure gloss uniformity before applying. Before using, mix coating thoroughly by gently stirring or rolling container to avoid air bubbles. Be sure to stir product thoroughly every 20 minutes during application. Do not shake container.
Pour material to be used into another container before applying coating to avoid contaminating main container. Then apply as is, using a quality nylon brush, pad applicator, or unheated spray applicator. Keep a good wet edge and avoid over- brushing. In most cases, a minimum of 2 coats is required, depending on the surface. When spraying, use a .015 tip or smaller. Apply thin even coats when spraying rather than heavy coats which will tend to sag. If spray pattern begins to dryspray, reduce air pressure and increase material flow to surface.
AFM Ecolacq COVERAGE:
One gallon of AFM Safecoat EcoLacq covers approximately 400 square feet in one coat depending on method of application and surface porosity.
DRYING/CURING TIME:
Under normal conditions, AFM Ecolacq dries to touch in one hour, is sandable after 2 – 4 hours, and re-coatable after 4 – 8 hours. The product will continue to cure and become harder over time. Normal conditions include a dry surface, access to fresh airflow, moderate humidity, and temperatures around 70°F. Thick application, high humidity or conditions other than normal will cause Safecoat Ecolacq to dry and cure more slowly.
CLEAN-UP:
Clean tools and equipment while still wet with a solution of SafeChoice Super Clean and warm water.