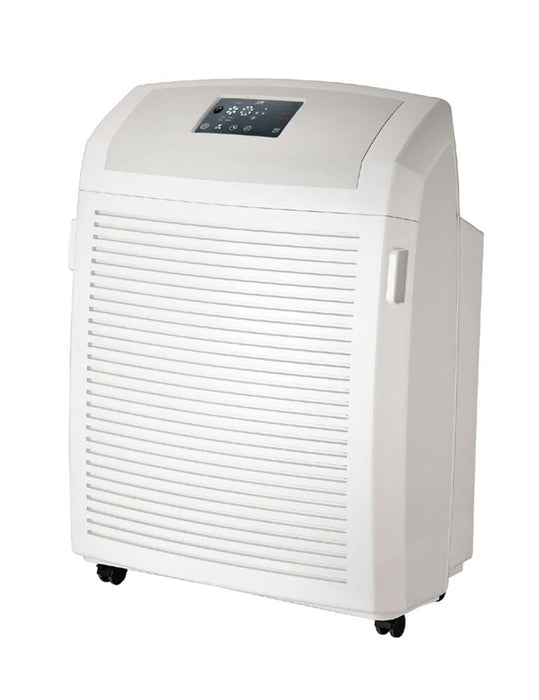 Replacement VOC filter for AC-2102
PRODUCT DESCRIPTIONThe AC-2102 features a Four-Stage filter assembly: Activated Carbon filter, HEPA filter, VOC filter and TiO2 filter with UV Light. Targeted to effectively remove volatile organic compounds (VOCs), odors and harmful particles, for rooms up to 465 ,000 hours. Activated Carbon Pre-Filter: removes househ
Original price
$85.77
-
Original price
$85.77
PRODUCT DESCRIPTION
The AC-2102 features a Four-Stage filter assembly: Activated Carbon filter, HEPA filter, VOC filter and TiO2 filter with UV Light. Targeted to effectively remove volatile organic compounds (VOCs), odors and harmful particles, for rooms up to 465 ,000 hours. Activated Carbon Pre-Filter: removes household odors. HEPA Filter: A high-efficiency air filter that captures 99.5 percentage of airborne pollutant particles as small as 0.3 microns, including spores, pollen, mold, pet dander and dust. VOC (Formaldehyde) Filter: Formaldehyde and other VOCs can be found in building materials, foam insulation, household products and fuel-burning appliances. They can prompt headaches, vomiting, rashes, asthma attacks and some are suspected to cause cancer. AC-2102 VOC honeycomb filter has 8.5oz of modified Activated Carbon impregnated with 8.5oz of Zeolite particles. Effectively removes formaldehye, toluene and VOC. Factory tested: VOC removal efficiency reaches 95 percentage, under the following conditions: 1m3 test room initial concentration: 1.9-2mg/m3 4hrs testing. TiO2 (titanium Oxide) Filter with UV Light: Photo catalytic oxidation is achieved when UV ray combines with a TiO2-coated filter. This process creates hydroxyl radicals and super-oxide ions, which are highly reactive electrons. These electrons aggressively combine with other elements in the air, such as bacteria and volatile organic compounds (VOC), which are harmful pollutants. Once bound together, the chemical reaction takes place between the super-charges ion and the pollutant, effectively oxidizing or burning the pollutant. This breaks the pollutant down into harmless carbon dioxide and water molecules. Warranty: One-year parts and labor warranty. Customer must pay all repair and freight charges after warranty period. Warranty applies to residents of the United States only.
FEATURES
Input voltage: 120V / 60Hz. Power consumption (Turbo): 182 watts. CFM (L/M/H/Turbo): 111/176/232/276. Room size: up to 465 : Taiwan.
Unit Dimensions: 20.9W x 13D x 28.3H inches. Net / Gross weight: 30/35 lbs. Box Dimensions: 24.49 x 18.11 x 30.31 inches.
Noise level (L/M/H/Turbo): 43/49/55/60 dBA. UV Light lifespan: 6,000 hours. CADR (smoke): 260 (factory tested).
4 fan speeds (Low, Medium, High and Turbo). On and OFF timers: 1 to 8 hours. Filter replacement indicator.
Convenient filter access for easy replacement. Casters for portability. Remote control. ETL.