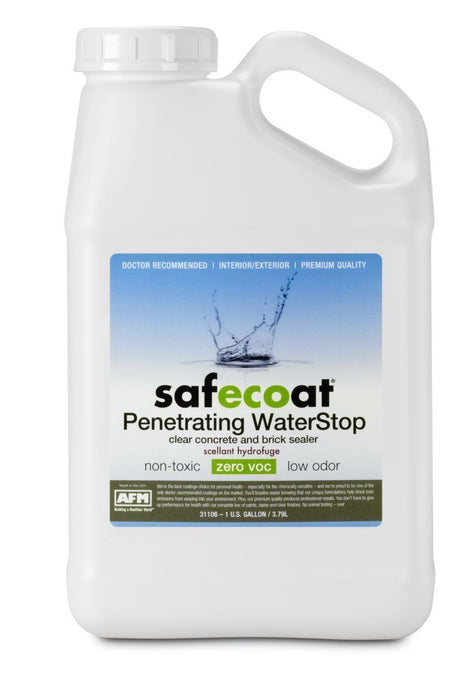 SAFECOAT® PENETRATING WATER STOP
This interior/exterior sealer improves water resistance and repellency in a wide variety of surfaces.
Original price
$52.80
-
Original price
$253.00
Safecoat Penetrating WaterStop is a zero voc, non-film forming sealer designed to improve water resistance and repellency in a wide variety of surfaces, including brick walls, concrete foundations, stucco, stone and most unglazed tile. It is not toxic and low odor, making it non-offensive to installer and occupant. It can be used indoors instead of a typical high solvent content sealer and is durable enough for use outdoors.
USE ON:
Porous, mineral containing surfaces such as brick, pavers, concrete block and other cementitious materials, stone and stucco. Not suitable for wood.
ADVANTAGES / SIGNIFICANT BENEFITS:
Good water resistance for up to five years when properly applied.

Low odor, non-offensive to installer and occupant.

Safely used by and for the chemically sensitive.

Fights indoor air pollution

Zero VOC content, meets or exceeds all federal and state air quality regulations, including California.

Contains no formaldehyde.
COVERAGE:
Most surfaces, 200-300 square feet per gallon. Natural limestone, 300-500 square feet per gallon. Coverage can depend on substrate porosity.
APPLICATION:
Safecoat Penetrating WaterStop with a brush or spray equipment in an even and uniform manner. Do not use a roller. For vertical surfaces start at the top and work down. Keep a wet edge. Always test a sample for suitability prior to full use. Avoid puddling on horizontal surfaces. Apply one coat only. Do not dilute. Note: these instructions are intended to be general only and not exhaustive. The applicator should determine which preparation and techniques are best suited to the specific surface.
CLEAN-UP:
Clean tools and equipment while still wet with a solution of SafeCoat Super Clean and warm water.
DRYING/CURING TIME:
24 hours full cure in moderate humidity and heat.