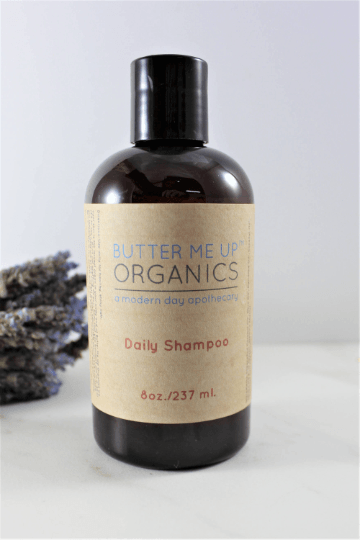 Organic Daily Shampoo
good for people and the planet
Original price
$12.95
-
Original price
$12.95
This shampoo is a daily shampoo to cleanse, moisturize and add shine. Made with a handmade base of pH Balanced Castile Soap, this shampoo is gentle and easy to use. It comes in an 8oz. BPA free squeeze bottle but can be substituted for an 8oz. glass bottle just put in notes. Will leave your hair shiny and soft. Suitable for all hair types.

Note: A little bit goes a long way and this will last you. We do not use any synthetic thickeners so this shampoo is thin but lathers wonderfully.

Ingredients: Distilled Water, Saponified Coconut Oil*, Olive Oil*, Virgin Coconut Oil*, Camelina Oil*, Essential Oils*, Jojoba Oil.

*Indicates Certified Organic

Conditioner Ingredients: Distilled Water, Organically Grown Aloe Vera, Olive Oil*, Jojoba Oil*, Avocado Oil*, Non-GMO Emulsifying Wax, Vegetable Glycerin*, Non-GMO Vitamin E, Jojoba Oil, Rose Absolut, Jasmine Absolut, Lavender Oil*
*Indicates certified organic

Shop Info:

We believe that your skin is just as vital as any other organ in your body. Here at Butter Me Up Organics, we like to say, "Don't put anything on your body that you wouldn't put in it." So, on that note, all of our products are completely edible. They may not be so tasty, however, but everything we use is non- toxic premium ingredients. Can you say that about the products you're currently using?

Other Info:

Organic

Completely cruelty-free

No sulfates, phthalates or parabens…ever

No synthetic dyes or fragrances

Completely all-natural and safe

Zero waste company

Packaging upcycled when possible

Everything is made with love <3

***This product has not been approved by the FDA though the individual ingredients have. This is not intended to replace the advice of a physician nor is it intended to treat, cure or prevent any diseases.