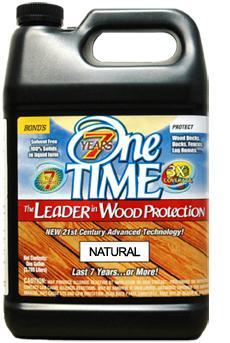 One TIME Wood Preserver
penetrates and cures to protect exterior wood for at least 7 years
Original price
$99.99
-
Original price
$439.99
PLEASE NOTE: The manufacturer is currently sold out due to supply chain issues. Please check back soon.
One TIME Wood Protector is a unique exterior wood protection formula that uses a proprietary acrylate resin blend to provide long-term protection from water and UV radiation. Unlike conventional exterior wood treatments, One TIME penetrates deep into the substrate's cellular structure and when cured by natural sunlight will last for 7 years. It does NOT evaporate or washes away like other products that simply coat the wood surface.
One TIME will lighten after the first year as OneTIME goes from a liquid to a solid in the wood.
Scars and knots are extremely dense. One TIME colors may not penetrate these areas.
Coverage:
New Wood 300-350 square feet
Old Wood 250-300 square feet
Colors: The color of the finish will vary considerably based on the natural color of the wood, but the following chart shows a representation on pressure-treated board
GENERAL PREP AND FINISH GUIDELINES
Properly Prepare the Surface
Proper preparation of exterior wood surfaces is essential to ensure the effective application of One TIME and to ultimately achieve a desirable and enduring finish. Removing past applications of stains, sealers, and coatings, as well as dirt, grime, and contaminants, will ensure that One TIME Stain and sealer penetrates deep into the wood for curing.
If a new wood surface is being sealed, we recommend cleaning off any dirt, grime, and contaminants before applying One TIME. Any dirt or stains not removed will be permanently sealed into the wood.
To remove most other sealers, coatings, deck stains, or other treatments previously applied to your wood surface, One TIME Stain and Sealer Remover is the ideal solution. One TIME Stain and Sealer Remover will remove both water and oil based stains and sealers.
One gallon of One TIME Stain and Sealer Remover will cover approximately 150 – 200 square feet.
Caution: Wear protection for skin and eyes when using One TIME Stain and Sealer Remover; the product is corrosive and will cause burns.
Smooth Cedar
Mill glaze on smooth cedar wood will restrict One TIME from working properly. ALL mill glaze must be removed before applying One TIME.
Sanding the wood and following up using a mill glaze remover may work (We suggest using One TIME Stain and Sealer Remover to remove mill glaze). Test a small area before applying the One TIME.
CAUTION:
Avoid contact with the liquid or spray mist- wear protective clothing when applying this material. Chemical resistant coveralls, chemical goggles, and chemical resistant gloves may cause a rash or in rare instances second-degree burns. READ THE LABEL ON THE CONTAINER FOR ALL CAUTIONS AND USER SAFETY RECOMMENDATIONS
Pre-Application Checklist
Estimate the amount of One TIME needed to ensure you have the proper supplies.
Check for any loose boards, steps or benches, and exposed nails or screws. Reset or replace any loose nails or screws.
Remove any feathered areas in your wood with a light sanding.
Cover surrounding vegetation with plastic tarps to protect them while working.
Check the weather service to make sure there is no chance of rain for the next 24 hours.
Achieving a Stunning and Sustaining Finish
Once you have completed your basic checklist, you can begin applying One TIME. Feel free to choose among any of the standard methods – brush, low nap roller, paint pad or an airless paint sprayer – to apply One TIME to the wood surface. You will see that One TIME immediately begins penetrating across and deep into the wood surface – delivering 1 1/2 times the coverage of conventional treatments.
Once applied, One TIME immediately begins curing in both direct and indirect sunlight. Under overcast conditions, 48 hours is needed for curing. Indirect sunlight, One TIME cures in less than 48 hours. Over-application may result in slower cure time and could cause a shiny finish.
To rejuvenate the color of your wood surface at any time within 7 years, simply clean the wood and re-apply One TIME.
Never strip again!
Only one coat of One TIME is needed
One TIME will not leave overlap, run or drip marks
One TIME will not crack, peel, flake or chip
Country of Manufacture: United States