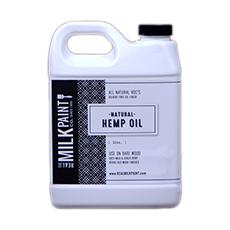 Natural Hemp Oil
Dries to a matte finish
Original price
$81.99
-
Original price
$81.99
Squeezed from industrial hemp plants. Very light nutty aroma. Dries to a matte finish. Will never produce a gloss or even much sheen.
All-natural VOCs and solvent-free drying oil finish. Use on bare wood, over milk paint, chalk paint, and to revive old wood finishes. This naturally thin viscosity oil will penetrate well on porous surfaces.
Safe for wood items in kitchens and countertops. Less durable and not as water-resistant as Pure Tung Oil. Great for lightly used items. Takes 7 to 10 days for a partial cure, 15 to 30 for a full cure.
Color of oil can range from a light green to golden yellow depending on weather conditions and time of harvest. The primary advantage over Pure Tung Oil is the viscosity of Hemp Oil in that it requires no thinning with Citrus Solvent. However, it can be thinned with Citrus Solvent if a thinner viscosity is required
Hemp Oil is not reported to cause allergic reactions. However, we recommend that sensitive individuals do their evaluation.
Country of Manufacture: CN