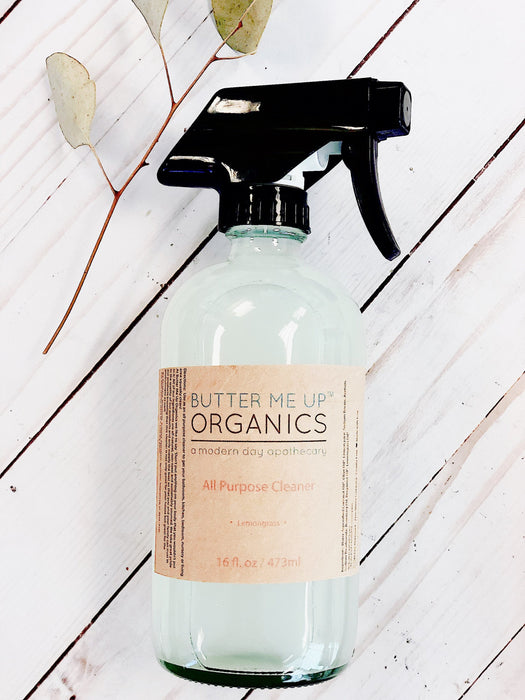 Natural All Purpose Cleaner Organic
good for people and the planet
Original price
$18.95
-
Original price
$18.95
This effective and gentle all-purpose cleaner is perfect for kitchens, bathrooms, nurseries, living areas, and whatever else you want to clean. Naturally disinfecting and smelling of uplifting organic lemongrass this cleaner will make you almost excited to :)

Works great at getting off those stuck on messes whether it be kid gunk, stovetops, bathroom counters, bathtubs, you name it!

The cleaner comes in a 16oz. glass bottle with a dual spray/squirt pump. Beautiful and perfect if you have your cleansers on an exposed shelf.

Made from a natural base of handcrafted organic Castille soap, essential oils, and vinegar, this cleaner is gentle and effective. Safe for use in baby's room and any other surfaces your family touches or that which will be in contact with food. Made from safe and food-grade ingredients. No harsh sulfates, surfactants or bleach.

Contains natural disinfectants, essential oils, and juices. Safe for pets too :) Water, Organic Castille Soap, lemon juice, borax, baking soda, vinegar, and custom disinfecting, organic essential oil blend.

Shop Info:

We believe that your skin is just as vital as any other organ in your body. Here at Butter Me Up Organics, we like to say, "Don't put anything on your body that you wouldn't put in it." So, on that note, all of our products are completely edible. They may not be so tasty, however, but everything we use is non-toxic premium ingredients. Can you say that about the products you're currently using?

Other Info:

Organic

Completely cruelty-free

No sulfates, phthalates or parabens…ever

No synthetic dyes or fragrances

Completely all-natural and safe

Zero waste company

Shipped Plastic-Free

Packaging upcycled when possible

Everything is made with love <3

***This product has not been approved by the FDA though the individual ingredients have. This is not intended to replace the advice of a physician nor is it intended to treat, cure or prevent any disease.