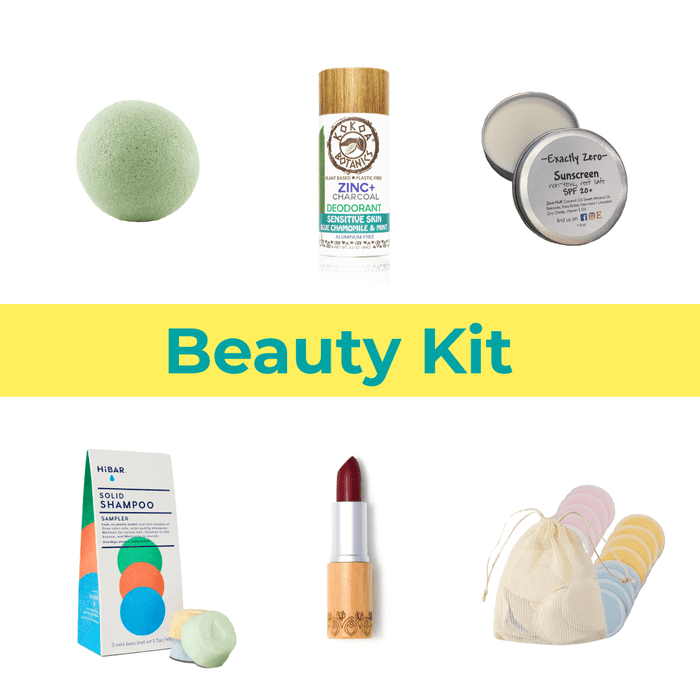 Kiwi Eco Box | Zero-Waste Beauty Kit
reduce disposable waste
Original price
$49.99
-
Original price
$49.99
The perfect kit for someone who is looking to 'clean up' their beauty routine.
Typical health and beauty products are designed for disposal and contribute to a significant portion of household waste. These beautifully crafted products are made from natural materials and ingredients, and can be composted or recycled at the end of life.
Eco-friendly
These zero waste products are carefully made with organic ingredients, free of chemicals and 100% plastic-free.
Packaging
Zero waste and plastic-free packaging.
Our kit includes:
Inside the box you will find:

1. Zero Waste Sunscreen by Exactly Zero.
2. Zinc & Charcoal – Sensitive Skin Deodorant with Blue Chamomile & Mint Natural Deodorant.
3. Hibar Shampoo Sampler Set.
4. Konjac Sponge.
5. Elate Cosmetics Sheer Lipstick – Vivacious.
6. Set of 9 Reusable Makeup Remover Pads - comes with laundry bag.