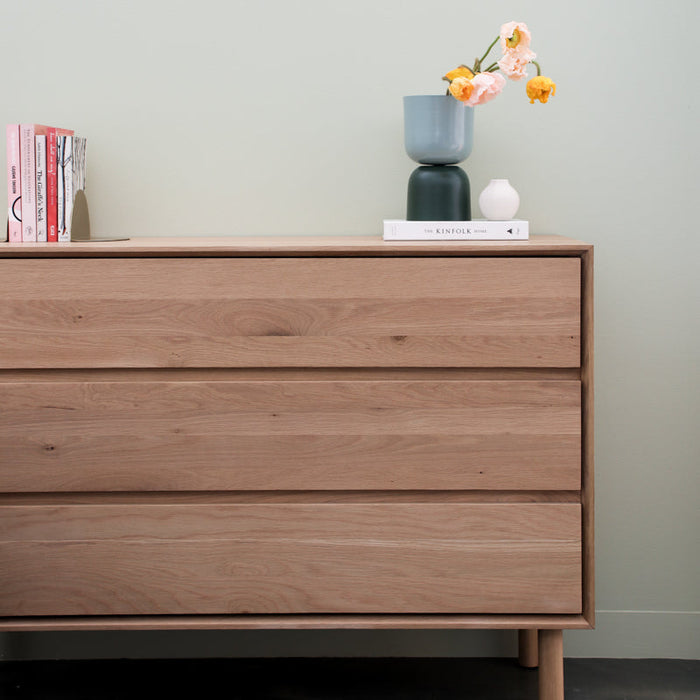 ECOS Paints - Interior Wood Varnish
excellent, zero-VOC products for your interior and exterior projects
Original price
$9.95
-
Original price
$109.45
The ECOS Paints - Woodsheild Interior Wood Varnish provides a beautiful finish to your material while also being extremely safe to use. You can choose from 3 different options, Satin, Gloss, or Semi-Gloss to find the perfect finish. Like all ECOS products, it contains Zero VOCs, No Odor, is HPD Third-Party Verified and can be applied in any space without discomfort.
Contains high-quality European pigments
Simple to apply
Fast Drying
Water-Based, so easy clean up
Country of Manufacture:
US
Sizes/Dimensions: 2oz or Gallon
Colors/Options: Satin, Gloss, or Semi-Gloss
Safety Information: Safety Data Sheet
Suggested Use
ECOS WoodShield Interior Floor Varnish is a low sheen, protective finish that dries to a hard, washable, durable film ideal for wood floors. Not recommended for oily woods such as Teak, Rosewood, and Olive.
Application/Coverage
Coverage

500

sq. ft. per gallon
Recommended coats

3

Description
Interior Satin Clear Varnish is a low to medium sheen, protective finish that dries to a hard, washable, durable film. Ideal for wood floors, window frames, doors, trim, and furniture.

Not suitable for oily woods such as teak, cedar, redwood, and olive.
Preparation
Good surface preparation is vital for the perfect finish. Surfaces should be clean, dry, and free from any dirt, dust, flaking pieces, or contaminants. Repair any cracks, holes, or imperfections. Sand the wood in the direction of the grain to obtain a smooth uniform surface. First use a medium-grade sandpaper (120 grit) working your way to fine-grade sandpaper (220 grit). Do not use steel wool. Wipe clean with a damp cloth to remove all sanding dust, and let dry thoroughly before applying the varnish. Always spot test on an inconspicuous area to ensure satisfactory results.
Application and Clean Up
Stir thoroughly before and during use to eliminate any settling. Do not shake. Do not thin. Do not apply in temperatures below 50°F (10°C). Dries to the touch in 30 to 60 minutes. Recommended wait time between coats is 2 to 4 hours. High humidity and cool temperatures may result in longer dry and recoat times. Clean application tools with warm soapy water. For application on window frames, doors, trim and furniture: apply a thin coat of varnish using a high quality synthetic bristle brush, or foam brush. Do not allow the varnish to puddle, or over-brush the finish. Once dry, lightly sand the entire surface with fine sandpaper (220 grit) to ensure an even finish and proper adhesion. Remove all dust. Apply a second coat. Allow 24 hours before light use. For application on wooden floors, use a lambswool or synthetic pad applicator, and maintain a wet edge to avoid lap marks. Apply three coats, sanding between coats. Avoid heavy traffic and replacing of furniture for 72 hours after the final coat. When replacing furniture, do not slide, and use felt protectors under table and chair legs to avoid scratching. Do not install rugs, or clean floors for seven days.
Maintenance
To clean surfaces we recommend using warm water and a mild detergent. Do not use abrasive or harsh chemicals such as ammonia, vinegar, powdered all-purpose cleaners, Endust, Pledge, Murphy's Oil Soap, any type of wax, or silicone based products. Do not steam clean. Do not allow water to stand on the floor for extended periods of time.