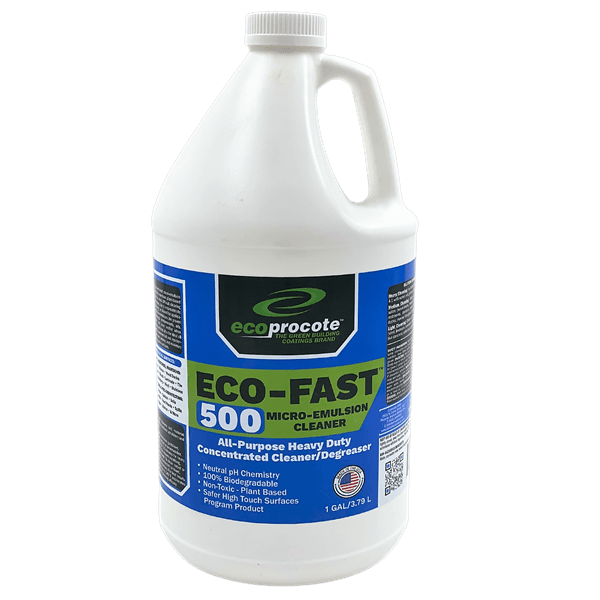 EcoFast 500 HD Cleaner Degreaser
A concentrated 100% biodegradeable, bio-based all purpose cleaner. A powerful green cleaner that's effective and environmentally safe to clean floors, counters, carpet, equipment, and is a great engine cleaner.
Original price
$14.88
-
Original price
$812.00
Eco-Fast™ 500 is a concentrated micro-emulsion cleaner that is a safe 100% non toxic plant-based cleaner formulated for the most difficult cleaning tasks yet is gentle on textiles. Use it in concentrate form for heavy duty cleaning or diluted for application specific cleaning. Micro-emulsions are proven effective in cutting through oils, grease, organic soils, and other contaminants. An ideal cleaner when preparing for disinfecting surfaces. It is the best all purpose cleaner used for commercial and residential environments. Save time, money, and minimize waste while achieving cleaner surfaces.
Ecofast 500 is an all-purpose cleaner and fabric degreaser that is designed to be gentle on textiles. It can be used straight out of the container as a heavy-duty degreaser, or diluted for general cleaning tasks. This cleaner is effective at light cleaning of floors and surfaces at a water-to-detergent ratio as high as 30:1.
This nontoxic natural degreaser contains micro-emulsions that are proven to work as a grease remover and can cut through organic soils and other contaminants. It's safe and effective on a wide range of materials, including concrete, wood, pool furniture, laminate floors, canvas, vehicles, tools and engine parts.