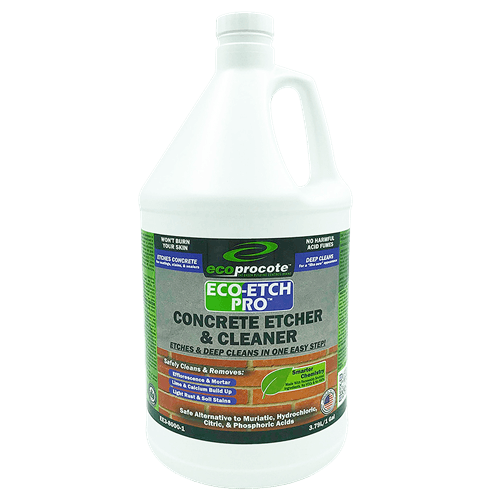 EcoEtch Pro Concrete Etcher & Cleaner
All of Eco Safety products are suitable for both interior or exterior applications by Eco Safety Products.
Original price
$5.00
-
Original price
$1,499.00
Better. Safer. Faster.
Eco-Etch Pro is a water-based non-hazardous, non-corrosive, biodegradable concentrate concrete etcher, efflorescence remover, and concrete cleaner. It is the ideal muriatic acid etch alternative. This advanced formula incorporates a custom blend of surfactants, organic minerals and derivatives of a plant based extract for the most effective concrete etching solution available. This acid etch alternative does not contain phosphoric, hydrochloric or muriatic acid, yet works better, safer and faster. Eco-Etch Pro is the preferred eco-friendly and user friendly acid etching alternative for interior or exterior surface preparation applications. The acid etching alternative, and concrete etching product will not burn skin, corrode mild steel, or harm vegetation.

Use this for concrete etching, and as an acid etching alternative for, masonry, cinder block, brick, mortar joints and grout to properly prepare substrates for optimum penetration and adhesion of stains, paints, industrial coatings, and sealers. Eco-Etch Pro is a great efflorescence remover while cleaning dirt, clay, mortar deposits, and light rust. A one step concrete etch and clean solution that brings back a new look surface. This concrete etching product and acid etching alternative is highly recommended for use with SoyCrete Concrete Stains and Eco-Tuff Coatings for optimum porosity and desirable results.
Eco Etch Pro begins to work immediately upon contact without toxic hazards or dangerous skin burns associated with traditional acid formulas. It should be used in full strength or diluted up to 3:1 (makes up to 4 gallons per 1 gallon of Etch) with water for lighter cleaning and etching requirements as pre-tested for proper efficacy. One gallon will cover up to 200 square feet. Dwell time will vary from 5 to 15 minutes which is also affected by the dilution ratio, porosity, and temperature. Rinsing thoroughly with water neutralizes the etching action. Make sure the solution creates a reactive foam and remains wet during the etching process. Check out the bulk Concrete Cleaning Solution.
The Basics:
Be sure the concrete is free of all sealers, curing compounds, and contaminants that prohibits reaction of Eco-Etch to the calcium and lime inherent in concrete. Pretest a small area to determine effective concentration and dwell time (5-10 minutes).

White foaming must occur to confirm proper chemical reaction upon contact. Allow sufficient dwell time, keeping the solution wet to achieve desired profile level.

Work in small manageable sections to avoid letting the solution dry. Apply evenly with a pump sprayer, then scrub with a hard bristle brush, black stripping pad, or 60-grit sanding disc to spread it uniformly and to deeply agitate the wet solution.

After the 5 to 10 minute dwell time as determined by your test patch, neutralize and scrub clean of all concrete dust residue with clean rinse water or EcoFast 500 degreaser. Repeat as necessary to ensure all residue has been removed.

You want to observe small micro pores in the concrete after completion. Lightly spray water in a test area to confirm water absorbs immediately and darkens the concrete. Repeat etching process and increase dwell time to ensure optimum profiling if necessary.
As long as there is no surface barrier such as chemicals, water, or film, and the concrete still contains sufficient calcium at the surface layers, EcoEtch Pro will work 100% of the time, guaranteed. It is scientifically impossible for the reactive organic chemistry which has an acidic base less than <1 on the pH scale, not to work on cementitious based materials.