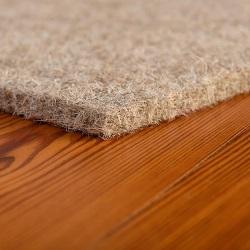 Earth Weave Enertia Wool Padding
100% natural wool padding
Original price
$270.00
-
Original price
$337.50
Get a 25% discount on your Enertia Wool Padding with purchase of an Earth Weave carpet (see related items below).
This is a 6' wide and 37' 6" long roll of wool carpet padding (sold in full rolls only, 25 square yards per roll). Average thickness is 7/16 inch, and the average weight is 40 oz/sq. yd. This full roll of padding requires a quote for shipping.
This wool-based carpet padding is a blend of coarse, naturally-pigmented wool which is mechanically needled (not glued) into a cotton scrim. The padding is free from dyes, fire retardant, glues, mothproofing chemicals or adhesives. The color will vary from charcoal brown to tan, depending upon fiber availability. Some vegetable matter may be present. Individuals who have a sensitivity to animal fibers should obtain a sample before ordering.
This 100% natural wool padding will provide many years of service before needing to be replaced. When it does, we urge our customers to recycle it to the garden where it will safely biodegrade while serving as an effective weed barrier and mulch. Over a period of 2-3 seasons, the padding will completely disappear, adding nitrogen and other nutrients plants need to the soil, essentially returning to grass.
Country of Manufacture: US