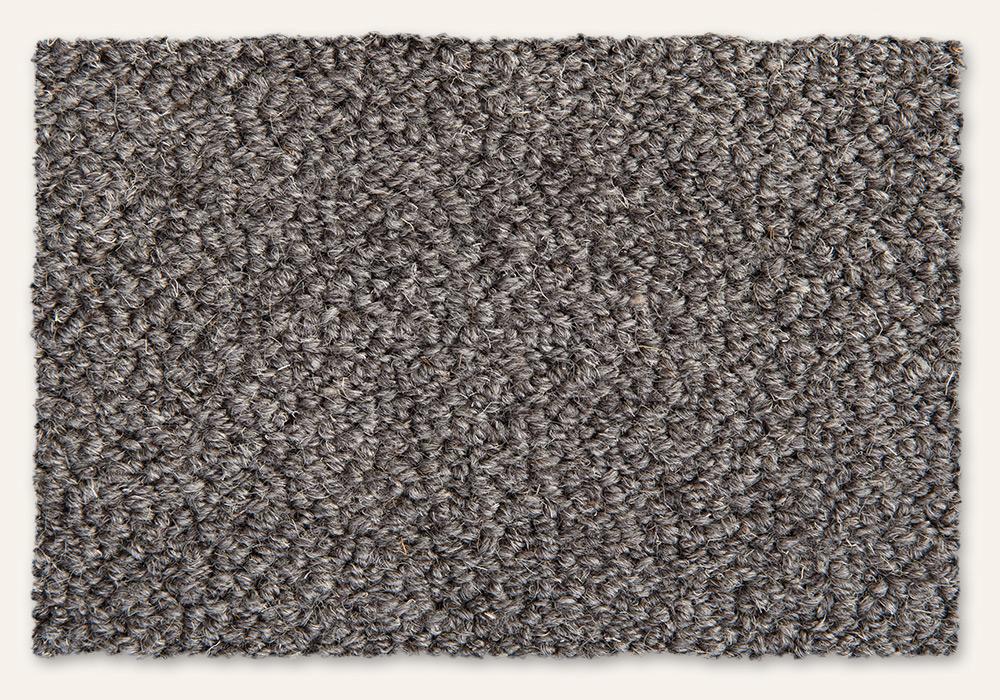 Earth Weave Broadloom Carpeting - McKinley
premium quality, all natural, wool carpeting; 10 colors
Original price
$60.75
-
Original price
$60.75
Current price
$60.75
per square yard
This is a serged area rug unlike any other produced in North America. First, the entire rug is made using only 100% natural materials. What does "natural" mean? Earth Weave starts by using only pure wool, zero dyes, and zero pesticides or chemical stain protectants. The backing is made of hemp and cotton, and the wool fibers are locked into place with a non-toxic natural adhesive derived from the rubber tree. In contrast, most commercial carpet companies use a chemical called styrene butadiene as an adhesive. You tell us which one sounds more like something you want in your home.

Biodegradable Carpet Backing: Does this mean this carpet will biodegrade inside my home? Nope! It means that once the carpet has served you with many, many years, you can recycle the backing by placing it in your garden as a weed barrier. Once exposed to sun, water, and soil, the backing will begin to biodegrade over a period of 2-3 seasons.
This broadloom carpet is sold by the square yard with a minimum order of 12 square yards. A full roll contains 120 square yards. Contact us for discounted pricing on orders of 500 square feet or more.
The McKinley is Earth Weave's most popular carpet offering a muted elegance; McKinley can be either dressed up in a formal application or used in a bedroom/foyer/den to gain the comfort that comes from the finest all-natural wool available.
Face: 100% Undyed & Untreated Wool Wool
Weight:44 oz
Width:12 feet
Primary: Hemp/Cotton
Durability: All residential applications & light commercial
Colors: Snowfield, Cottontail, Honeysuckle, Granite, Tussock, Dried Thistle, Silver Birch, Pewter, Anthracite & Ursus (check the colors/options section for a better view).
Selecting the right carpeting option
Earth Weave Carpet Line contains 5 options, all suitable for residential and light commercial applications. Check related items for more details about each option.
Please allow 1-2 weeks for shipping and handling. Please call for a quote.
It's a good idea to order our Sample Set so that you can see and feel the actual color and texture you will be receiving. Also, see related items below if you are interested in purchasing as a serged area rug.
Country of Manufacture: US
Sizes/Dimensions
The carpeting is cut from rolls that are 12' wide and 90' long.
Care and Maintenance
As with all quality natural fiber carpets, vacuuming with a suction only vacuum cleaner is recommended. Beater bar vacuums or overly aggressive cleaning methods may damage the surface pile of wool carpet. Proper vacuuming on a regular basis will increase performance. Use only a wool-approved cleaner for removing stains. Do not vigorously rub the affected area, lightly blot area instead. If stains persist contact a professional cleaner and be sure they use cleaners designed for wool and natural fibers.
Shipping Information
Please review the following link for information about the shipping/delivery of flooring. Please contact us with any questions or special delivery needs. Important information about the shipping and delivery of flooring
Ingredients/Composition
There are no moth proofing or stain protections applied. In conjunction with this, we use only naturally pigmented wool fibers for coloration as opposed to any of the harsh dyes and chemical bonding agents other carpet manufacturers use. To further differentiate this carpet we use a natural primary of hemp and cotton. This is used instead of the traditional synthetic polypropylene primary. The primary is the material that the tufting machine places the wool yarn into and acts to hold it in place.
The next process is the application of adhesive and secondary backing material. This further helps to lock the stitches in place and prevents slippage of the yarn. This is another area where we apply our unique techniques. The adhesive that Earth Weave uses is 100% natural and bio-degradable. It is made of natural rubber from the rubber tree. The secondary (back of carpet) is made from jute, a hardy earth friendly fiber producing plant.
All of these elements add up to make a product that is beautiful to look at yet sacrifices nothing in the way of our commitment to indoor air quality and the environment.
Benefits and Certifications
No chemical mothproofing;
No chemical stain & fire retardants;
No synthetic dyes;
No synthetic primary;
No styrene-butadiene adhesive;
No synthetic poly secondary;