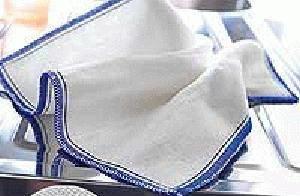 Duzi Cleaning Cloth
package of two bacteria-fighting cleaning cloths
Original price
$11.99
-
Original price
$11.99
Duzi Cloths - 2 per pack
Duzi, like the Mabu cleaning cloths, rinses 99.99% bacteria-free. They are super absorbent and long-lasting. Kick the paper towel habit and save money with Duzi.
The Duzi cleaning cloth is made from 100% natural wood fiber. It features an 8-layer design that promotes durability yet provides for a soft touch. An open weave means that debris is not easily trapped, so the cloth can be rinsed thoroughly to avoid the sour smells common with ordinary sponges and cloths. You can use it with soap, but the Duzi cloth performs great with plain water. The Duzi is compostable.
Dimensions: 11.4" x 11.4" (29cm x 29cm).
Super absorbent, stain-resistant. This eco-friendly cloth rinses 99.99% bacteria-free and it also saves you money.
Country of Manufacture: TW