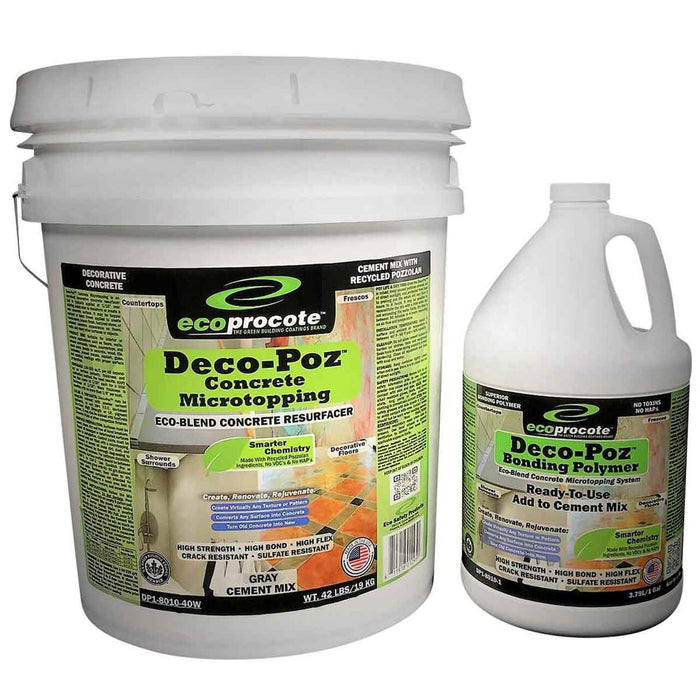 Deco-Poz Concrete Resurfacer Kit
The concrete countertop resurface product comes in a 10 lb kit which includes the gray cement mix & concrete bonding polymer.
Original price
$52.65
-
Original price
$110.75
Deco-Poz Countertop resurface kits include (1) 10lb Cement Mix and (1) 32 Oz RTU Bonding Polymer in the 10lb kit, or 40lb Cement Mix and 1 Gallon RTU Bonding Polymer in the 40lb kit. Available in gray or white. It is a high performance concrete resurfacer made with high purity crystalline silica free recycled pozzolan for added strength, sulfate resistance, and reduction of Portland cement demand.

This is packaged for smaller area projects such as countertops, tables, shower surrounds, concrete wall art, crafts, repairs, and more. Simply pour in the 32 Oz or 1 Gallon Deco-Poz Ready-to-Use Bonding Polymer and mix. Add up to 12 oz or 48 oz of water to increase flow and viscosity as determined by the application type, thickness, and trowel method. Transform existing substrates with a new crack resistant concrete canvas. Apply over concrete, wood, laminates, metal, tiles, and existing coatings.
Typical coverage at 1/32" - 1/16": 25-50 sq.ft. per 10lbs of mix.