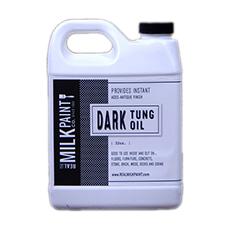 Dark Tung Oil
a natural way to darken and protect wood
Original price
$84.99
-
Original price
$84.99
Properties and Characteristics: The base for this product is Pure Tung Oil. A non-toxic, naturally-occurring resinous hydrocarbon is added to achieve a rich brown color. The resin is non-carcinogenic and does not contain any PCB's. Dark Tung Oil is water and alkali resistant. It resists marring, penetrates well, is elastic and unlikely to check. Dark Tung Oil builds quickly, consolidates the wood surface and builds a dark matte finish. It should be kept in an airtight container with minimum air space.
Tung Oil comes from the cold pressing of the seeds or nuts of the Tung tree. Tung trees mainly grow in the mountainous regions of china away from industrialization and pollution. Climate, soil and air quality are essential for high-quality oil. 100% Pure Chinese Tung Oil or China wood oil is an all-natural finish manufactured by pressing the tung nut, no petroleum distillates or other additives - just Pure Tung Oil. All tung oils are not the same. Some low priced marketers will package South American Tung Oil (dark, greenish) and sell it is as the higher quality Chinese Tung Oils. Chinese Pure Tung Oil is available in 3 grades, we only offer the best available, Grade 1 yellow. A better quality Pure Chinese Tung Oil will offer superior color, faster drying, and a long term elastic finish. Elasticity is an important factor as the oil must continue to flex with the expansion and contraction of the substrate on which it is applied.
For new wood floors and refinishing wood floors, applications of dark Tung Oil must be thinned. See "Floor Finishing and Pure Tung Oil"
Always test your application method before full application to a large project.
Color: The color of wood finished with Dark Tung Oil will vary based on the wood species. A Pure Tung Oil is also available (see related items below). Please see this chart comparing Pure and Dark Tung Oil for a picture of different woods before and after finishing with Pure or Dark Tung Oil.
Tung Oil History: Pure Tung Oil (China wood oil) is an all-natural finishing product that provides a tough, flexible and highly water-resistant coating. It is classed as a drying oil along with linseed, poppy seed, safflower seed, walnut, soybean, Titicacaoiticica, and a few other oils. Although it is relatively new to the Western world, tung oil also known as China wood oil has been known for centuries to the Chinese, and until this century, China was the main source for the oil. It comes from the seed of the tung trees, Aleurites fordii and Aleurites Montana, deciduous trees that are very susceptible to frost damage. This vulnerability has restricted the cultivation of the tung trees to China and South America. Tung oil (China wood oil ) received a wide application in China: in the building trades as a treatment for both stone and wooden structures; in marine trades as a preservative and water repellant on wooden boats. It is said to have been introduced to the West by Marco Polo. From the 13th to the 19th century, tung oil had only limited use in the West. More recently, tung oil has gained favor over linseed oil for wood finishing because it is faster drying and does not darken as much with age.
Pure Tung Oil Advantages:
Best Available, Grade 1 yellow
Naturally polymerizing finish
Cures by oxidation, not evaporation
Does not form a glossy finish no matter the number of coats
Forms a flexible waterproof finish
Resists abrasion and acids
Does not blister and peel (properly applied)
Does not mold like linseed oil
Long shelf life (will last for years, properly sealed)
Does not darken with time like linseed oil
Concentrated (thin one to one, doubles the coverage)
Combines with Citrus Solventto make an all-natural finish
FDA approved for food contact
Use: The surface should be dusted to remove all loose particles. Alternatively, you can lightly sand the first coat before applying a second. Any filling, sealing or staining must be done before the oil is applied. The first coat should be a liberal one, and you can rub it over the wood with your hand, a soft rag. Allow this application to sit for 20 minutes so the oil can soak in, then remove any excess with clean soft rags. Check after about half an hour for any seeping, and rub this off as well. Let dry completely (24-48 hours) between coats. For woods with very open pores, allow an extra 24 hours drying time.
Tung oil can be applied pure or with Citrus Solventadded if a non-toxic finish is required. Thinners such as Citrus Solventcan accelerate the drying process and greatly improve penetration.
The number of coats of oil to be applied will be determined by the intended use of the piece. Two to four coats are enough for decorative work, paneling and molding. Surfaces that receive moderate to heavy use or handling could need up to six coats for maximum protection, plus a light renewal coat a couple of times a year. Apply till the surface reaches the saturation point. This will be evident as the surface will not absorb more oil. Renewal and building coats are quickly applied with cheesecloth, a lint-free cloth or old nylon stockings. This process will give you a surface that will stand up to vigorous use and spills: water will bead on the surface.
Dark Tung Oil is recommended for wood finishing of kitchen tables, chopping blocks, wood, and concrete countertops, wood floors, concrete floors, refinishing wood floors, outdoor decks, outdoor furniture, wood siding, log homes both interior and exterior and similar uses. Its non-toxic nature makes it particularly appropriate for children's toys and furniture. It gives good protection to wood paneling and molding.
We have found tung oil to be a valuable helper in the workshop. It adheres very well to metal, and a light coat rubbed onto tool steel is an effective rust inhibitor. Wooden handles will also benefit from the occasional coat./p>
Fda: Dark Tung Oil is approved for food contact by the FDA.
Tips: If you find Dark Tung Oil to be too dark, just mix with Pure Tung Oil to get the color you desire. With each application of Dark Tung Oil, your project may get darker. If you have achieved the color you want with your first coat, but would like more protection, just apply Pure Tung Oil for remaining coats. Let dry completely between coats 24-48 hours or until you see a consistent even sheen.
Keep containers tightly closed away from extreme temperature changes and open flames. As with all oils, rags, steel wool or waste soaked with oil, may spontaneously catch fire if improperly discarded. Immediately after use, place the oil-soaked material in a sealed water-filled metal container or hang outside separately to dry.
Reference: Gunstock Finishing and Care by Donald Newell, Bailey's Industrial Oil, and Fat Products - Vol. 1 - 4th edition.
Country of Manufacture: CN