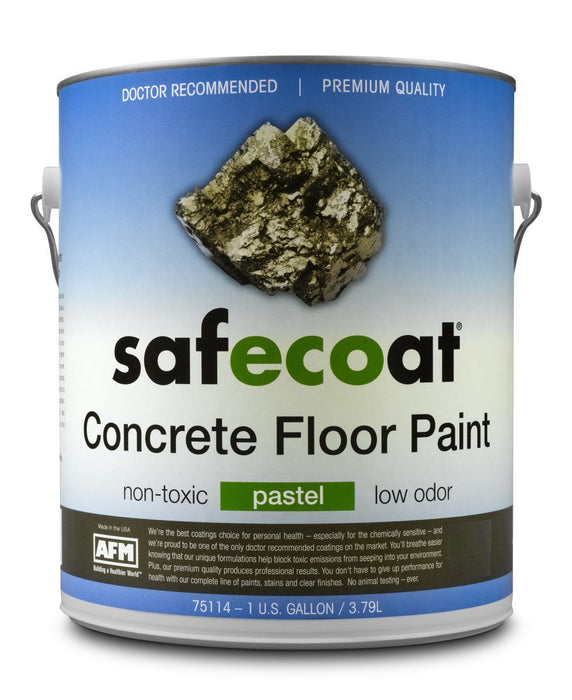 SAFECOAT® CONCRETE FLOOR PAINT
This unique waterborne coating is ideal for interior concrete floors, dimensionally stable decks including magnesite, walkways, breezeways and patios.
Original price
$10.99
-
Original price
$80.30
Contact us to help color-match your paint today! Simply tell us your desired color from a major manufacturer. Include the manufacturer, brand, name, and number.
AFM Safecoat Concrete Floor Paint is a unique, high performance, ready to use, waterborne coating designed primarily for use on dimensionally stable floors and decks including interior or exterior concrete, masonry, stone and brick. It is ideal for walkways, breezeways, tennis courts, patios and playgrounds. Can be used on primed and properly prepared wooden surfaces with varying degrees of success depending upon environmental conditions and nature of use.
AFM Safecoat Concrete Floor Paint dries quickly to a tough, semigloss sheen film for lasting protection on properly prepared surfaces. Safecoat Concrete Floor Paint is virtually odorless on application and is available in bases for tinting to a wide variety of colors. It is compatible with other Safecoat sealers and coatings to provide additional finish protection, durability and appearances, and worn areas are easy to recoat and repair.
COVERAGE:
Approximately 350 square feet per gallon of AFM Safecoat Concrete Floor Paint in one coat depending on surface porosity.
DRYING/CURING TIME:
Under normal conditions, Safecoat® dries to touch in 4-12 hours. Allow 24 hours between coats. Normal conditions include a dry surface, access to fresh air flow, moderate humidity, and temperatures above 55°F. Safe- coat® Deckote can be put into service in 12 – 24 hours under most conditions, but will develop its full durability in 3 weeks after applying. Avoid heavy traffic and cleaning for a minimum of 7 days.
CLEAN-UP:
Clean tools and equipment while they are still wet with a solution of SafeChoice Super Clean and warm water. If Safecoat Deckote Concrete Floor Paint is allowed to harden on tools, it will be necessary to use lacquer thinner or stronger solvents.