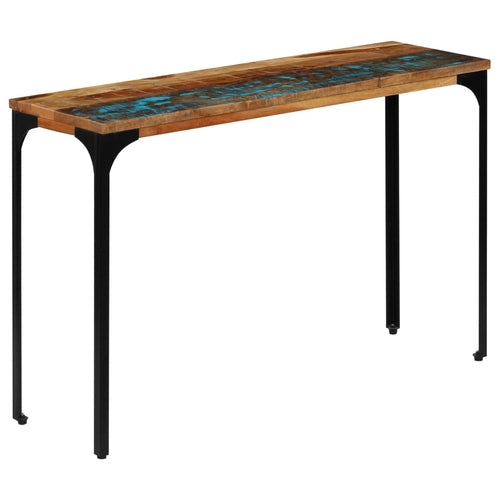 Console Table 47.2"x13.8"x29.2" Solid Reclaimed Wood
unique, crafted with eco-friendly wood
Original price
$266.14
-
Original price
$297.20
This wooden console table is stylish yet practical. It can be used as a dinner table, as well as an office desk. The gracious design will make this end table a centerpiece in any room.
This accent table is made of solid reclaimed wood and power-coated steel, enabling it considerably sturdy and durable. Furniture made from reclaimed wood has the characteristics of different woods like teak, mango wood and acacia. This means the reclaimed wood retains the characteristics of these different types of wood. Reclaimed wood is already aged, weathered and dried, and accordingly it doesn't shrink or bend. Every step of the construction process is carried out with the greatest care, be it polishing, painting and lacquering. The craftsmanship and the aesthetically appealing wood grains endow every piece of furniture sui generis and slightly different from the next. The assembly is easy.
Important note: The wood grains and colors may vary from piece to piece, making each of our console tables unique; the delivery is random.
This listing may have variant(s). Please review and select the variant before making a purchase.