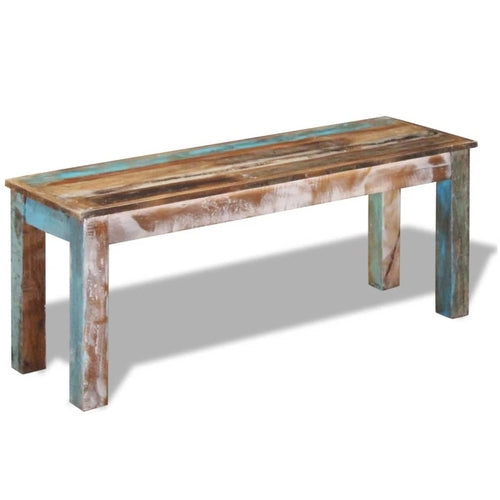 Bench Solid Reclaimed Wood 43.3"x13.8"x17.7"
unique, crafted with eco-friendly wood
Sold out
Original price
$443.34
-
Original price
$457.96
This antique-style wooden bench will make a unique addition to your home. Its solid wood construction makes it stable, sturdy and suitable for everyday use.
This vintage bench is made of solid reclaimed wood, which means that every piece of furniture is unique and slightly different from the next. Furniture made from reclaimed wood has the characteristics of different woods like teak, mango wood and acacia. Reclaimed wood is solid, stable, durable, and beautiful. Signs of wear and visible grain structure give each piece its own history and a unique look.
The bench is fully handmade, and the craftsmanship adds to its spectacular retro style. Every step of the process is carried out with the greatest care, be it recombining, polishing, painting or waxing.
Important note: colors vary from piece to piece, making each of our benches unique. The delivery is random.
This listing may have variant(s). Please review and select the variant before making a purchase.