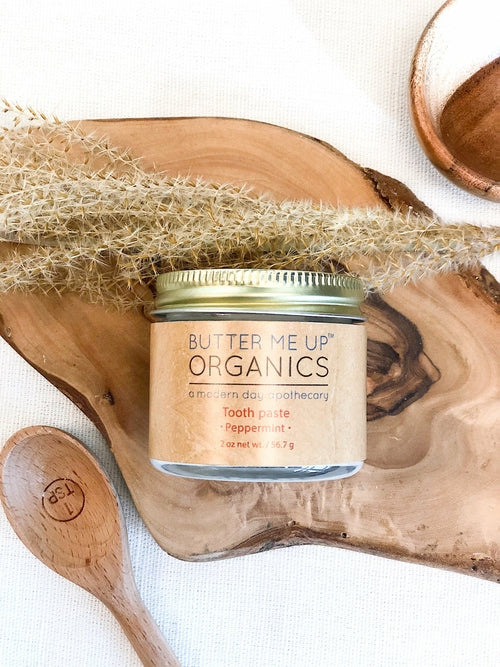 All Natural Organic Whitening Toothpaste / Remineralizing Toothpaste
In the organic world, toothpaste is a controversial product whose ingredients are constantly up for debate. Most contain dyes, sulfates, silica, fluoride, flavorings and other ingredients that can have an adverse effect on our teeth and gums. This is a chemical-free blend that will leave your teeth feeling polished and
Original price
$8.50
-
Original price
$23.00
In the organic world, toothpaste is a controversial product whose ingredients are constantly up for debate. Most contain dyes, sulfates, silica, fluoride, flavorings and other ingredients that can have an adverse effect on our teeth and gums. This is a chemical-free blend that will leave your teeth feeling polished and very healthy.
In this toothpaste, I combine baking soda, sea salt, calcium, essential oils and coconut oil which has wonderful and naturally occurring anti-bacterial properties and stops tooth decay. These ingredients promote overall mouth and body health and do not have any adverse effects. The texture is similar to regular tube toothpaste and oils are undetectable. Ingredients are added for their health benefits and paste is pleasant to use and leaves your mouth feeling healthy and fresh. This is a wonderful toothpaste to compliment oil pulling.
The paste comes in a 2 oz. GLASS JAR with the wooden applicator and comes flavored with Sweet Orange essential oil or Peppermint with Rosemary.
Ingredients/Benefits:
Baking Soda: Whitens teeth naturally, freshens breath, neutralizes mouth Ph and polishes teeth without scratching tooth surface.
Sea Salt: Strengthens teeth by adding necessary minerals and polishes teeth. Also a natural source of fluoride to prevent cavities.
Calcium: Strengthens teeth, adds an essential mineral to the surface, thickens the paste and acts as an extra polishing agent.
Organic Coconut Oil: Stops tooth decay, naturally anti-fungal and antibacterial, whitens teeth, is packed full of vitamins and minerals to strengthen teeth, freshens breath and aids in stopping receding gums from gingivitis and advanced periodontal disease.
Rosemary Essential Oil: Prevents bad breath and plaque, naturally astringent and antibacterial, keeps the gums and teeth healthy. If pregnant, Rosemary essential oil should be avoided. Message me and I'll omit it. Separation in the product is normal.
Shop Info:
We believe that your skin is just as vital as any other organ in your body. Here at Butter Me Up Organics, we like to say, "Don't put anything on your body that you wouldn't put in it." So, on that note, all of our products are completely edible. They may not be so tasty, however, but everything we use is non- toxic premium ingredients. Can you say that about the products you're currently using?
Other Info:
Organic
Completely cruelty-free
No sulfates, phthalates or parabens…ever
No synthetic dyes or fragrances
Completely all-natural and safe
Zero waste company
Packaging upcycled when possible
Everything is made with love <3
***This product has not been approved by the FDA though the individual ingredients have. This is not intended to replace the advice of a physician nor is it intended to treat, cure, or prevent any disease.