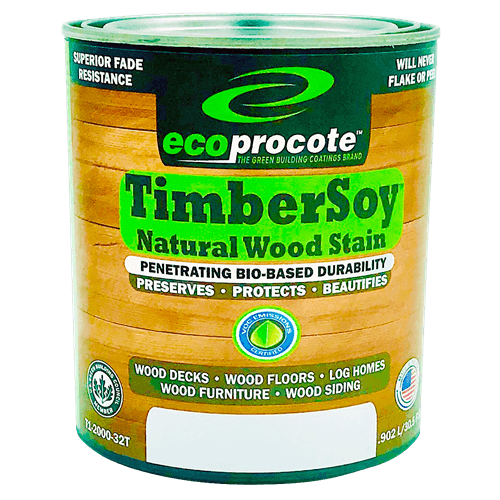 TimberSoy Natural Wood Stain, Gallon
a penetrating, eco-friendly, bio-based wood stain
Original price
$52.95
-
Original price
$62.95
TimberSoyTM is now available with Infrared Reflective pigments for the ultimate in exterior UV protection. The colors are the same with and without the IR pigments. The 2-ounce samples are not available with the IR pigments. You will get the standard formulation with the sample size. The gallon and 5-gallon sizes will come with IR pigments if selected.
TimberSoyTM is a non-toxic, eco-friendly bio-based chemistry engineered with an advanced soy ester dispersion technology. It is the world's leading bio-based penetrating natural wood stain technology that outperforms all other wood stain products. A professional-grade natural wood stain made from soybean oils that preserves wood surfaces and creates a beautiful, rich natural look. Unlike conventional wood stains, soy esters penetrate the growth rings and continue to spread and seal throughout the wood all year round. Besides, our technology contains only 100% solids, bio-based zero-VOC colorant pigments that are the most colorfast in the industry. This combined chemistry delivers true penetration, excellent wood preservation, and enhances wood protection. Naturally resists UV, mold, mildew, and moisture for long term results.
TimberSoyTM is virtually odorless and contains no hazardous ingredients to give the installer and occupants a piece of mind. Installers also enjoy an error-free, lap mark-free installation without the typical headaches or worries. The smooth, consistent viscosity applies effortlessly by HVLP sprayer, B&D Stain Stick, foam applicator pad, or cloth.
Country of Manufacture: United States
Selecting The Right Finish:
Understanding the environment, use, and maintenance of your decorative floor will help you choose the proper balance of surface protection, life cycle cost, and the appearance desired. All of Eco Safety products are suitable for both interior or exterior applications.
Acri-Soy? Sealer:

A bio-based penetration natural satin sheen finish for concrete, masonry, clay plaster, and many other porous substrates. This product is a high-performance sealer to help resist foot traffic, stains, water, efflorescence and even most vehicular fluids such as motor oil, anti-freeze, and transmission fluid.
EcoFlorZ? Decorative Floor Finish:

A hard-wearing zinc-free interior floor finish to add a beautiful gloss to high gloss luster to your decorative floor. Installs easily by mopping over the Acri-Soy Sealer. In addition to an eye-popping gloss finish, it provides a durable barrier coat that may be easily maintained and is high speed punishable.

Eco-Tuff? High Traffic Clear Coat System:

A 2-part high-performance, high traffic system using a water-based primer and a modified bio-based acrylic-urethane topcoat finish. Intended for maximum protection against abrasion, chemicals, stains, salts, and water. It provides a beautiful high luster finish.
Suggested Use:
TimberSoyTM is ideal for interior and exterior porous surfaces such as wood decks, wood floors, wood sheds, wood siding, fiber cement siding, wood furniture, wood cabins, and more. The eco-friendly soy dispersion technology replicates the permanent absorption characteristics similar to motor oil but with an unlimited array of natural variegated color effects.
Ingredients/Composition
New Micro-Flo NG Technology: An advanced formulation to achieve faster penetration, even easier installation, and increased integral bonding. By incorporating small particle size chemistry and an improved ability to reduce surface tension, the stain flows more efficiently into the substrate with ease and without streaking. Professional applicators and artisans now enjoy enhanced versatile color layering and faster distribution of the stain with more variety of applicator tool choices, including high-quality pump sprayers.
Benefits and Certifications: TimberSoyTM meets more Green Building LEED attributes than any other wood stain product by containing renewable resource materials, recycled content and ultra-low VOC's. It is the preferred choice among professional green builders worldwide.
Application/Coverage: The advanced technology will provide you with more than double the spread rate (400-600 sq.t.p/gal) compared to competitive products. You simply can't find a safer, more flexible or more affordable wood stain.
Common applications: Decorate, renew or repair porous surfaces for less than $.0 per sq.t.