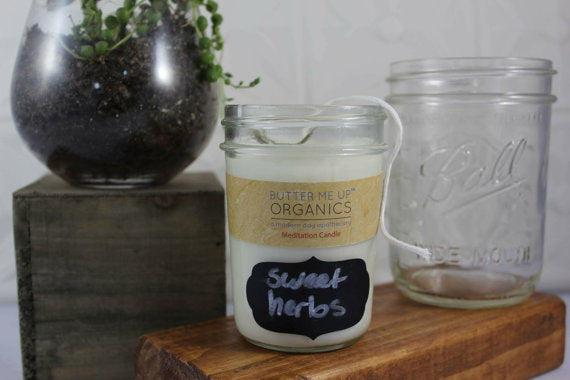 Soy Wax Essential Oil Candle Extra Long Burning
good for people and the planet
Original price
$14.95
-
Original price
$14.95
This 8oz. candle will last approx. 48 hours of burning time. Scented with organic essential oils, it not only smells beautiful but emits wonderful aromatherapy as well.

Available in a variety of blends from florals, to herbals to woodsy. Also available unscented. Topped with the complimentary herb to excite the senses even more. We're confident you will love this candle and get tons of use out of it. Feel free to pm with custom blends if you prefer :) Comes with gold screw-top metal lid.

Rose Garden: Rose Absolut, Vetiver*
Sweet Herbs: Rosemary*, Basil*, Clary Sage*
Calming: Lavender* & Chamomile*
Sexy: Jasmine, Ylang Ylang, Lavender*
Happiness: Amyris*, Sweet Orange, Patchouli*
Sweet Citrus: Bergamot*, Sweet Orange, Sandalwood

*Indicates Certified Organic

*Essential oil candles are a muted scent. There is no synthetic fragrance oil in our candles.*

Other Info:

Organic

Non-GMO

Completely cruelty-free

No sulfates, phthalates or parabens…ever

No synthetic dyes or fragrances

Labels printed on recycled paper from eco-friendly soy-based inks

Completely all-natural and safe

Zero waste company

Mailing packaging upcycled when possible

Everything is made with love <3

***This product has not been approved by the FDA though the individual ingredients have. This is not intended to replace the advice of a physician nor is it intended to treat, cure or prevent any disease.