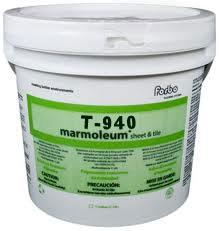 Marmoleum T940 Tile Adhesive
1 or 4-gallon pails of T940 adhesive
Original price
$52.00
-
Original price
$183.00
The T940 Marmoleum adhesive is specially formulated for use with Marmoleum tiles (Marmoleum Dual Tile and Marmoleum Composition Tile or MCT).
SPECIFICATIONS:
Acrylic Polymer
Contains MicroSept anti-microbial protection
Not flammable; 100% Solvent-free
Storage: Freeze-thaw stable: 1 cycle at 20F. If the pail is opened and found to be frozen, let it set closed and undisturbed at room temperature until thawed. DO NOT try to mix frozen adhesive.
Shelf life: 1 year in an unopened container
Appearance and Odor: White paste with little or no odor
VOC Emissions: 0 grams per liter (calculated per CA South Coast Rule 1168)
Spread Rate: Approximately 125-150 square feet per gallon
Available in one and four-gallon units
INSTALLATION RECOMMENDATIONS:
Recommended Substrates: All grade levels of concrete, approved suspended wood floors and approved existing resilient floors. The substrate must be sound, smooth, clean, flat and permanently dry. For concrete substrates, the moisture vapor emission rate must not exceed 5.0 lbs. per 1,000 square feet in 24 hours as determined by testing conducted per the latest version of ASTM F 1869. The internal relative humidity must not exceed 75% as determined by testing conducted per the latest version of ASTM F 2170. The surface pH of concrete slabs must not exceed a pH of 10. Concrete substrates with pH readings less than 7.0 or above 10.0 will require remediation before installation. When moisture vapor emissions or concrete internal relative humidity exceed these requirements, please request information on Forbo Moisture Limitor.
1. Areas to receive flooring should be clean, fully enclosed and weathertight. The permanent HVAC must be fully operational, controlled and set at a minimum of 68F (20C) for a minimum of seven days before, during, and seven days after the installation.
2. The substrate must be free all foreign materials including, but not limited to, dust, dirt, paint, grease, oils, solvents, old adhesive residue, sealers, curing and hardening compounds.
3. Always conduct adhesive mat bond tests before beginning the installation. Bond testing will aid in identifying both the working characteristics of the adhesive, such as the appropriate open and working times for the site conditions and also any potential bonding problems to the substrate.
4. Trowel recommendation: 1/16 x 1/16 x 1/16 square notch trowel. Replace the trowel blade with each new pail of adhesive to ensure proper spread rate.
5. The open time and working time of adhesives will vary depending on site conditions such as ambient temperature and humidity, the porosity of the substrate and air circulation. A general indication of proper open time is when a light touch produces little transfer of adhesive to the finger, but a firm touch will flatten and smear the adhesive.
6. A short open time will be necessary. The adhesive should be allowed to develop body before placing the flooring material into the adhesive, but DO NOT ALLOW THE ADHESIVE TO DRY. The flooring material MUST always be placed into wet adhesive and rolled immediately. The flooring material must also remain in contact with the adhesive while the adhesive is drying and curing. Proper tile placement and rolling will result in a complete explosion of the trowel ridges, creating a continuous flat film of adhesive. Complete transfer of the tile backing will appear in the surface of the adhesive.
7. Check for adhesive transfer frequently; there must be a wet transfer of adhesive to the material backing to achieve a secure bond.
8. Immediately roll the flooring in both directions using a 100-pound roller to ensure proper adhesive transfer. Additional rolling is suggested during adhesive set up to ensure that the material is flat and fully adhered.
9. Remove fresh adhesive with water. For dried adhesive use white spirits.
10. Keep the lid on the pail when not in use.
11. Do not allow heavy traffic or rolling loads for a minimum of 72 hours following the installation. Additional time may be necessary if the installation is over a non-porous substrate.
12. To allow the adhesive to dry and cure properly, wait a minimum of five days following the installation before conducting wet cleaning procedures or initial maintenance. Additional time may be necessary if the installation is over a non-porous substrate.
Marmoleum T940 Tile Adhesive MSDS- click to see the Manufacturer Safety Data Sheet for the T940 Adhesive. Country of Manufacture: