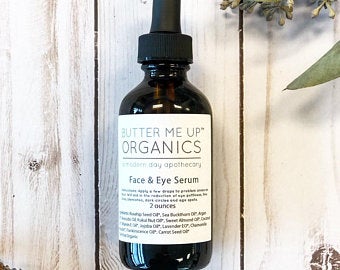 Organic Facial Serum Anti Aging Wrinkles Under Eye
good for people and the planet
Original price
$24.95
-
Original price
$24.95
When we were creating this facial serum we were originally going to make separate serums for anti-aging, wrinkles, under-eye circles, puffiness, and aging but so many of the oils overlapped and we thought, why not just make one super packed serum that treats ALL of these things and is done with it? This is THE serums of serums. Try it, you'll understand.

The anti-aging serum is a winning combination of Rosehip Oil*, Sea Buckthorn Oil*, Avocado Oil*, Argan Oil*, Kukui Nut Oil*, Sweet Almond*, Coconut Oil*, Vitamin E Oil*, Jojoba Oil*, Lavender Oil*, Chamomile*, Carrot Seed Oil* and Frankincense Oil*

*Indicates certified Organic

The oils and essential oils are the highest quality and specifically chosen for their health benefits to the body. Free of harsh detergents, dyes and synthetic fragrance these are the purest and most beneficial oils you can buy. Our serums are hand-poured so each is quality assured! We're confident that you'll love them and see amazing results! Great for gifts or for yourself. The product can be specially crafted if there's something you prefer.

Other Info:

Organic

Non-GMO

Completely cruelty-free

No sulfates, phthalates or parabens…ever

No synthetic dyes or fragrances

Labels printed on recycled paper from eco-friendly soy-based inks

Completely all-natural and safe

Zero waste company

Mailing packaging upcycled when possible

Everything is made with love <3

***This product has not been approved by the FDA though the individual ingredients have. This is not intended to replace the advice of a physician nor is it intended to treat, cure or prevent any disease.