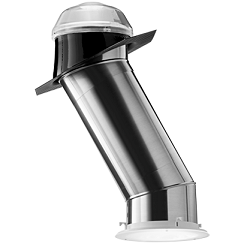 High Velocity Hurricane Zone (HVHZ) Solatube 10" ISn Daylighting Kit
brighten your interior with natural daylight
Original price
$348.51
-
Original price
$411.63
The Solatube 160 ISn delivers daylight to spaces up to 200 sq. ft, such as bathrooms, laundry rooms, closets and hallways, or in multiples for larger rooms. Includes an integrated Solar Electric NightLight for a soft glow at night and qualifies for a 30% federal tax credit (approved for 2017 installations).
Tube Size: 10 in. (250 mm)
Light Coverage Area: 150-200 square feet (14 - 19 square meters)
Potential Tube Length: 20 ft. (6 m)
Available with round or square fixtures
Introducing a whole new twist on Solatube daylighting. Thinking inside the tube, Solatube had integrated a small solar-electric system that collects the sun's energy by day to power a NightLight that automatically comes on at dark. The soft glow, which mimics moonlight, means you don't have to turn on the lights for late night trips to the bathroom or to navigate hallways and stairs.
Hurricane Zone: The HVHZ model meets code requirements of high velocity wind zone states such as Texas and South Florida. The model can be used in any region for extra protection from extreme weather.
Tax Credit: The best part? You can save a bundle. This new daylighting system, the Solatube ISn with Integrated Solar Electric NightLight, qualifies for a 26% federal tax credit on the entire cost of the system and installation.
Light Your Day
Unique dome technologies increase low-angle light capture for consistent lighting throughout the day
Patented tubing maximizes light transfer
Decorative Fixtures diffuse daylight beautifully
Light Your Way
Integrated solar panel collects energy, recharging NightLight batteries
An embedded sensor automatically triggers smart dusk-to-dawn nightlighting
Two long-lasting LEDs emit soft illumination
Country of Manufacture:US
Contact us for pricing and delivery options.