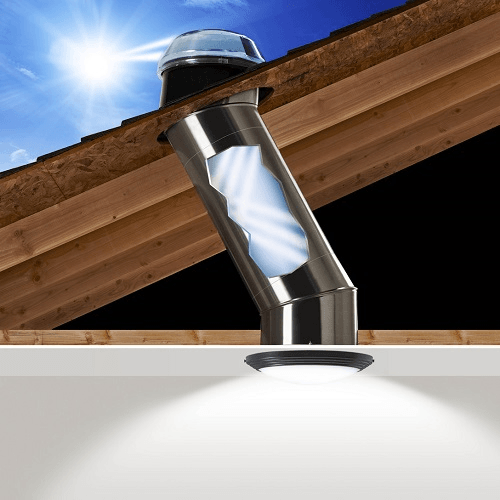 High Velocity Hurricane (HVHZ) Solatube 10" 160 DS Daylight Kit
brighten your interior with natural daylight, approved for Hurricane Zones
Original price
$401.23
-
Original price
$473.89
This Daylighting System sets performance standards never seen before. These models feature the patented Raybender 3000 Technology and LightTracker Reflector to deliver an Effective Daylight Capture Surface (EDCS) significantly higher than the previous 10-inch Solatube model and nearly double the EDCS of copycat products. Highly effective and simple to install, these models can transform dark interior applications and light more expansive spaces with multiple units creating a unique architectural effect. Great for Bathrooms, Hallways, Corridors, Utility Rooms, Dens, Home Offices, Kitchens, Dining Rooms, and Closets.
The HVHZ model meets code requirements of high velocity wind zone states such as Texas and South Florida. The model can be used in any region for extra protection from extreme weather.

The EDCS represents the surface area of the dome that collects and redirects sunlight. A clear dome with no lens on a typical 10-inch tube system has an EDCS of 78.5 square inches. Solatube's patented technologies yield an EDCS of 160 square inches for the 160 DS.
The light coverage area for the Solatube 160 DS is 150-200 square feet. The potential tube length is 20 feet.
If a combination kit is not available with the type of flashing, diffuser, and/or tubes you require, you can order a starter kit instead (see related items below). With a starter kit, you order the flashing, diffuser, and tubes separately so that you can get the particular combination of products needed for your installation.
NOTE: At this time this item is only available in two configurations (one with a pitched metal flashing, a natural effects lens for climate control, Vusion diffuser, and 2 - 16" tubes and the other with a no-pitch flashing, Vusion diffuser, and no extension tubes).
If other options are desired, they must be ordered separately and in addition to this kit.
Country of Manufacture: US
Contact us for pricing and delivery options